Your Vets

Mini  grew up in a household where pets were part of the family. She graduated from Cambridge University in 2001 and loves all aspects of being a vet, but found that cats had a certain special something and so developed a passion for her feline patients.
She loves investigating and managing challenging medical cases as well as surgery, feline dentistry and ophthalmology. Exemplary anaesthesia and pain control are major interests and she is also a qualified veterinary acupuncturist. She holds the RCVS certificate in Small Animal Medicine and is a member of the Australian and New Zealand College of Veterinary Science (feline chapter), an internationally recognised qualification in cat medicine. She is an RCVS recognised advanced practitioner in small animal medicine and a member of the ISFM academy of feline practitioners. Mini shares her home with a very affectionate cat, Douglas, and much loved dogs, Tickle and Fraggle.

Bia graduated as a vet from the University of Porto, Portugal, in 2010. Her love for cats (big and small) led her to the Iberian Lynx Conservation Project, where she worked for two and a half years, before joining a small animal practice in the UK. Bia has two cats, Franz and Molly, who live with her parents in Portugal.
Your nurses

Georgina is a Registered Veterinary Nurse. Georgina has been with Cambridge Cat Clinic since the beginning, having previously worked in both general and referral practices. Her particular interests lie in medical and intensive nursing, and has achieved the ISFM Diploma in Feline Nursing at Distinction level. She lives with Perry the puss and Murdock the Jack Russell Terrier.

Sophie is a Registered Veterinary Nurse, who previously worked in a small animal practice. Sophie has a special interest in surgical nursing and anaesthesia. She has always been a cat owner and currently shares her home with a tabby named Billy.

Sarah is a Registered Veterinary Nurse. Sarah has a wealth of knowledge, with particular interest and experience in feline behaviour. She enjoys all aspects of practical nursing, and is especially good at reassuring the more timid patients.
Your receptionist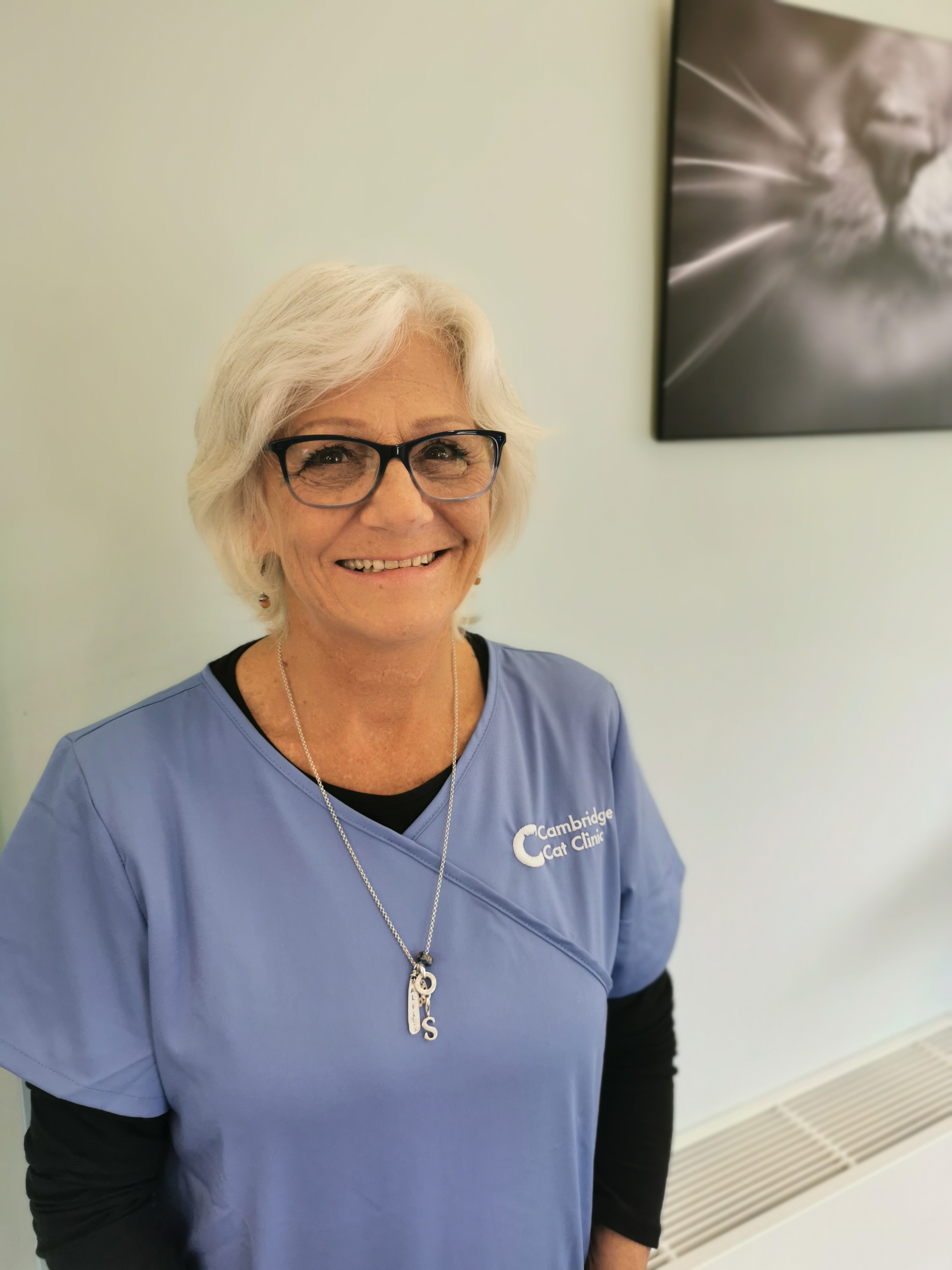 Diane is our lovely Receptionist, and has also been with Cambridge Cat Clinic from the start. She enjoys meeting both old and new owners and their cats, and is always available for a chat. She lives with Harvey and Jigsaw, her two cats, a Cockapoo named Ruby, and her husband.