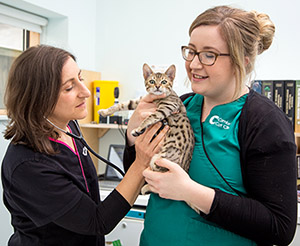 Cambridge Cat Clinic provides the highest quality care and expertise for cats and their owners. Whether you need a consultation about a medical or behavioural problem, preventative healthcare such as vaccinations, worming and flea treatment or diagnostic imaging, surgery or dentistry – we have the expertise and the resources.
Our clinic provides the very latest equipment and facilities designed especially for the needs of our feline patients.
Please click on the links below to see the details of the different services we offer. (Hyperlink to all services)
For more information, please contact us to speak to a member of our cat clinic team.