Blood pressure measurement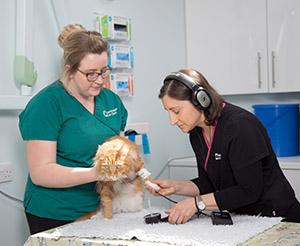 High blood pressure is a common problem in older cats and may be secondary to another disease, for example chronic kidney disease. If undiagnosed, very serious and dramatic signs can occur, such as blindness or fitting. Often there will be no forewarning signs of high blood pressure.
When cats are anxious, their blood pressure rises. We may advise that your cat comes into the clinic for the day, so that several measurements can be taken, once he or she is more relaxed and acclimatised to the measuring technique.
For more information, please contact us to speak to a member of our cat clinic team.