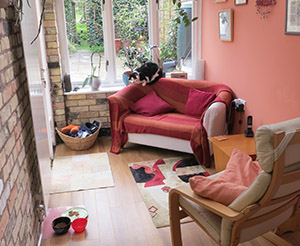 Did you know that most of your cat's routine veterinary care can be done with minimal stress, in your own home? Vet2Cat is a home visiting service that we offer to our clients located within 20 minutes from our clinic.
Our Vet2Cat service has now been running for over a year, and we have received great feedback from our owners!
We can provide wellness checks for kittens and seniors, vaccinations, blood pressure measurement, blood and urine sampling, dental follow up checks, implanting microchips, and weight monitoring. We can also deliver compassionate end of life care.
Perhaps you can relate to the following:
Your cat becomes so distressed by being wrestled into a cat carrier, and then driven to the clinic, that the thought of a trip to the vet fills you with dread?
Find it difficult getting to a vet because of your own transport issues, health concerns or work schedule?
Your cat is elderly or has an illness that is likely to be made worse by stress?
Taken on a rescue cat or one with an anxious temperament?
Previously been advised it's not worth bringing your cat back to a vet practice (unless it's a matter of life or death) because your cat becomes "unmanageable" or is too traumatised?
Been injured by your cat in the process of trying to get them into a carrier?
Our hugely successful Vet2Cat service is available for all pre-planned visits, within 20 minutes of the Cambridge Cat Clinic. Local visit slots are arranged on Mondays to Wednesdays, every week between the hours of 10am-4pm. We will phone you 30 minutes before we are due to the leave the clinic, so that you have time to get home.
The fee is just an affordable £15, on top of the cost of the service and treatment supplied.
Being part of Cambridge Cat Clinic means that if your cat requires treatment that cannot be given at your home, you have the reassurance that he or she will be looked after by passionate cat loving staff in an environment that concentrates all its resources and expertise on cats.
One of our owners recently commented: "I used the mobile cat clinic today for the first time – where the clinic comes to you – to get my very travel adverse elderly cat's claws clipped. Fantastic, prompt, fully-equipped, and I couldn't believe how little the service costs. Less than hiring a taxi to take her to the clinic! I can't recommend the service more highly, thanks Cambridge Cat Clinic!"
For more information, please contact us to speak to a member of our cat clinic team.