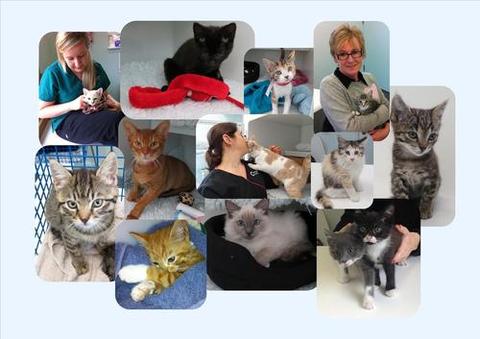 The clinic is coming up for its 2nd birthday and I can't quite believe how many wonderful cats and people we have met so far.  As is now becoming a tradition, we would love to see as many friends, old and new at our May open day.  As usual, cake, tea, family fun and cat information will be available from 1-4 pm on Saturday 17th May.  If you would like to see behind the scenes at the clinic, this is your opportunity!
If this was not exciting enough, this time of year brings us lots of proud new owners with adorable kittens, full of mischief and fun.   The novelty of getting to cuddle kittens in my consulting room never seems to wear off and makes me wonder why anyone would want to be anything other than a cat vet!  These early visits to the vet are of vital importance for the kitten's preventative health, as well as helping their humans to get into good habits that will hopefully last a lifetime.  Top of the list of things we can do to keep our cats healthy is vaccination.
Cats of all ages in the UK can and do become ill or even die from infectious diseases that we can prevent through vaccination.  Widespread vaccination in the last few decades has helped to dramatically reduce the incidence of some of these diseases, but we mustn't be complacent.   Recent international veterinary guidelines and consensus information has tried to steer vets from 'overvaccination' of our pets, but in the case of kittens, it is still very important that they are protected and the benefits hugely outweigh any risks.
In the first few weeks of life, kittens are protected from diseases via their mother's immune system.  This wears off after around 8-12 weeks, which is when vaccinations are given, to take over the protection.  The exact point that kittens can mount their own immune response and so be fully protected by the vaccine, as well as the stage that their mother's antibodies are waning is not known for each individual kitten.  For this reason we give a course of injections, at 9 and 12 weeks of age and sometimes a final dose of vaccine at 16weeks.
All cats should then receive a 'booster' within 12 months of completing their kitten vaccines to ensure that we cover any kittens that did not fully respond to their kitten course.
Not all vaccines given are the same.  At the clinic we use the latest products available, utilising incredible vaccine technology and current viral strains.  We also know these are less likely to cause any side effects than some other products on the market.
Kittens should receive vaccines for the so called 'core' diseases (flu and enteritis) as well as Feline Leukaemia Virus, as in the UK most of our pussycats will venture outside.
For detailed information about the diseases we vaccinate against click here.  Current WSAVA vaccination guidelines can be accessed here.
Don't forget, all your kittens vaccinations are included in our preventative healthcare packages.