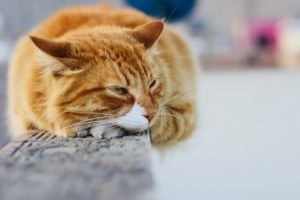 Don't worry if you are a bit slow off the mark with this year's resolutions – everyone knows that they don't really start until February…!
Play with my owner more
Cats need lots of physical and mental stimulation to keep them happy and stress-free.
Cut down on the Dreamies
Lots of cats are overweight – this can lead to disease and a shortened lifespan.
Get my jabs, and protect my feline friends.
Vaccines protect not only your own cat, but also create "herd immunity", caring for entire feline population.
Stay parasite free
Regular prescription worm and flea control is essential to keep your cat, and your extended family safe (humans and other species included!).
Take care of my fangs
Dental disease is the most common disease of cats. Most cats over five years old will suffer from some form of dental disease, ranging from mild gingivitis, painful tooth abscesses or feline resorptive lesions.
Give my owners peace of mind
A life-long insurance policy is highly advised for all cats, to assist with any unexpected accidents and emergencies, as well as long term diseases.
To help your cat with their New Year resolutions, enquire about our Preventative Healthcare Packages. These simple and affordable packages make it easier for you to provide your cat with exceptional preventative healthcare, as well as helping you to budget.