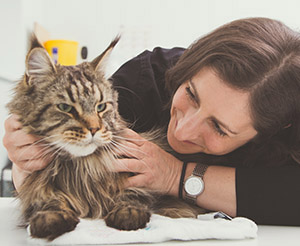 Dental problems are the most frequently diagnosed disease in pet cats. Cats often show no signs even with significant oral pain and infection.
Looking after your cat's teeth requires as much commitment as looking after your own! We can help you get into the routine of tooth brushing with some pointers and advice, and can also suggest certain dental diets and treats.
Realistically though many cats refuse to be helped! This means that at times, your cat may require more extensive dentistry and dental radiographs, which we can also provide. For further information visit the BVDA site (https://www.bvda.co.uk/frequently-asked-questions)
For more information, please contact us to speak to a member of our cat clinic team.