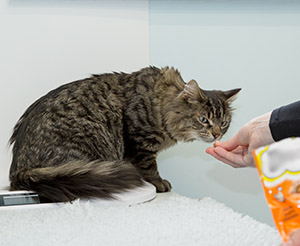 Improvements in veterinary care and nutrition mean that pet cats are living longer. We regularly meet cats in their late teens/early twenties who still have as much 'cattitude' as they did as youngsters. All the same, ageing brings about a number of changes to how the body functions, and leads to a higher incidence of certain diseases.
We believe that preventative healthcare becomes even more important as your cat ages. A thorough physical examination, urine test and blood pressure check are simple, non-invasive ways to monitor your cat's health and allow us to detect problems early, allowing prompt and more effective
treatment or management. The Cambridge Cat Clinic recommends at least 6 monthly checks for our older felines.
We can also advise on age appropriate nutrition, suggest ways of making things easier for less mobile individuals and look after your cat's nails, which become very thick and brittle, as they age.
For more information, please contact us to speak to a member of our cat clinic team.