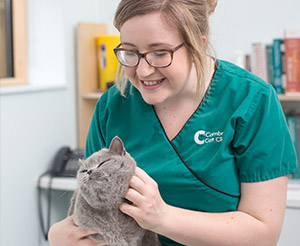 Vaccination can protect your cat from some of the major feline infectious diseases. Vaccinations must be kept up to date to be effective.
We have chosen specific vaccines which allow us to choose individual components, so as to only give the appropriate 'booster' for your cat. We will tailor your cat's vaccination protocol to suit their lifestyle.
All our vaccines are adjuvant-free. Adjuvants are the components of vaccines which produce local tissue reaction at the site of injection.
For more information, please contact us to speak to a member of our cat clinic team.
Kittens
Kittens require a vaccination course beginning at 9 weeks and consisting of three vaccines given 3 to 4 weeks apart, with the last vaccine given when your kitten is at least 16 weeks of age.
Following the initial vaccine course, booster vaccinations (single injections) given at regular intervals are recommended to maintain a good level of protection.
Your kitten will be vaccinated against Feline Infectious Enteritis, Feline Herpesvirus- 1 and Feline Calicivirus (the 'core' vaccines).
The use of other vaccines, such as Chlamydophila, FeLV and Bordatella cannot be justified in all circumstances and so we recommend the use of these vaccines be determined on a case-by-case basis according to individual needs.
For more information about vaccination guidelines, visit the WSAVA vaccination guidelines (http://www.wsava.org/sites/default/files/WSAVA%20Vaccination%20Guidelines%202015%20Full%20Version.pdf)
Older cats
After the initial kitten vaccination course, we tailor your cat's vaccines to suit their lifestyle. This may seem very complicated but we feel it demonstrates the extra care we take in looking after your cat as an individual.
Rest assured, we will send you a reminder, to let you know when your cat's vaccination is due. We will review your cat's vaccination schedule as part of your cat's annual health check, in case their lifestyle or circumstances have changed.
For more information, please contact us to speak to a member of our cat clinic team.