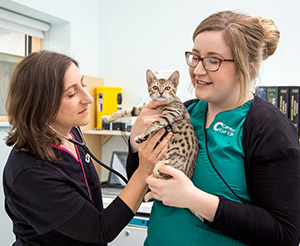 Regular health checks are essential for maintaining the health of your cat. Cats are subtle; one of the many reasons we love them! This means that it is not always obvious when something is wrong. Detecting problems early can allow for more successful treatment or management of many conditions. Bringing your cat to the clinic regularly allows us to get to know what is normal for him or her, so that we can identify problems more easily.
During your cats health check, we can also discuss all aspects of preventative care, including diet, dental health, behaviour, worm and flea protection and vaccination.
The frequency of these checks will depend on the age and health status of your cat. We suggest that healthy adult cats should visit annually, whereas cats over the age of eight should come in twice a year. Cats diagnosed with an on-going medical condition may benefit from more frequent checks.
For more information, please contact us to speak to a member of our cat clinic team.