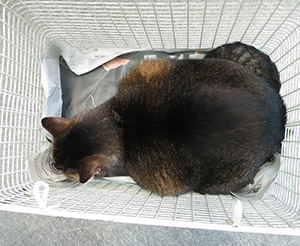 We are seeing more and more overweight cats in the UK. This is partly due to less active lifestyles and diets that are high in calories and carbohydrates, which are very tasty!
Being more than 20% overweight is classified as obese, and increases a cat's risk of developing certain diseases. These include diabetes, lower urinary tract problems (cystitis), arthritis, non-allergic skin diseases, hepatic lipidosis
and exercise intolerance/reduced stamina. Overweight cats are at higher risk of anaesthetic complications, have reduced immune function and may have breathing problems.
We can design a specific feeding plan and give advice on appropriate diets to allow your cat to reach a healthy weight. It is dangerous for cats to lose weight too quickly and it may take an overweight cat many months to reach his or her optimum weight. During this time, we will monitor your cat's progress and help make adjustments to your cat's feeding plan. We will also give continued support and advice regarding ways to increase your cat's activity levels. Our nurse led weight clinics are free of charge.
Once target weight is achieved, we can help devise an appropriate maintenance diet plan. We advise regular weight checks to ensure that the weight stays off!
For more information, please contact us to speak to a member of our cat clinic team.