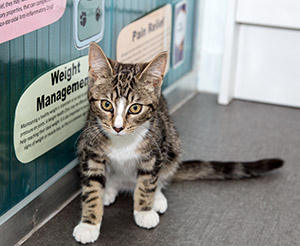 Cambridge Cat Clinic recommends that all pet cats are neutered. We neuter owned cats from 4 months of age, and can perform this surgery routinely Monday-Friday.
Kittens reach sexual maturity from 5-8 months of age, after which they are capable of breeding and producing kittens themselves. Neutering kittens at 4 months has many benefits, including minimising the stress, pain and recovery time associated with the surgery. Moreover, undesirable behaviour patterns, such as roaming, fighting or spraying can be harder to alter if kittens are neutered at an older age. If you would like to know more about the timing of neutering, please click here. (http://www.thecatgroup.org.uk/policy_statements/neut.html)
Your cat will only need to be with us for the day, and will be back home with you in time for dinner.
For more information on neutering, or to make an appointment, please contact us to speak to a member of our cat clinic team.