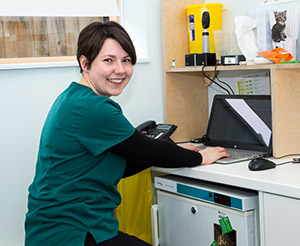 Cambridge Cat Clinic believes all cats should be microchipped.
Microchipping is the implantation of a small chip under your cat's skin which corresponds to a unique number stored on a national database. It is safe and permanent, and allows your cat to be identified if he or she is ever lost, so that you can be reunited. Remember, if you move house or change telephone number, you should alter your details by contacting the database.
Sure Flap
We supply cat flaps that are operated via your cat's microchip, so that only your cat has access to your home. These are innovative and highly effective at keeping out unwanted visitors that can be very upsetting for your cat. Ask at reception for details.
For more information, please contact us to speak to a member of our cat clinic team.