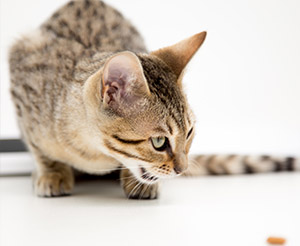 Acupuncture has evolved from the ancient art of placing needles into special locations on the body, to alleviate pain and increase the recovery rate and resistance to disease. It is a system of healing which has been practised by the Chinese and other Eastern cultures for thousands of years and may be used to treat a wide variety of illnesses.
Acupuncture is used in addition to conventional veterinary medicine. Specific diseases that may be treated using acupuncture in cats include:
Chronic pain – especially due to arthritis
Urinary and faecal incontinence
Epilepsy
Chronic unresolved diarrhoea or constipation
Immune dysfunction
Chronic breathing problems – feline asthma/bronchitis
Stress related disease, such as over grooming, inappropriate urination or aggression.
Acupuncture is normally well tolerated by cats and many fall asleep during their treatment!
For more information, please contact us to speak to a member of our cat clinic team.